Yokomo 1989 World Championship Chassis Set Carbon [BBR0048]
Fits: Yokomo YZ-870C, Yokomo YZ-10

Price: $180.00 (AUD)


0

in stock




Carbon fibre 1989 world championship winning Yokomo chassis conversion set.

This conversion set is my interpretation of Masami's 1989 Yokomo team car based on magazine photos and videos from the world championships in 1989 at St Ives, Sydney, Australia.

I have done my best to accurately re-create the design of the chassis, top deck and battery braces. The shock towers as far as I could tell from the photos taken at the time look identical to Yokomo 91 Works shock towers, therefore the shock are a direct reproduction of 91 Works towers.

All the bulkhead, motor mount and steering post mount points are a direct copy from the YZ-870C chassis.

I also have a Lipo battery mount available for people who may want to run their replica with a shorty lipo battery. Part BBR0050.

A black fibreglass version will be available shortly.

Features:

Made from high strength carbon fibre. Gloss surface both sides.


What's included:

Chassis lower deck 3mm


Chassis upper deck and motor mount screw washer 2.5mm


4+2 Sub C layout battery clamps 2.5mm


Front and rear shock towers 2.5mm


Steering post brace 1mm




Click for larger image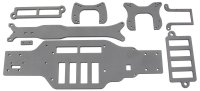 | | Cart summary |
| --- | --- |
| | Cart is empty |